RevIVe
Drip Hydration
Excellence Without Compromise.
Welcome to IV Infusion Perth Specialists at RevIVe Drip Hydration
Recharge, refresh, recover, and feel revitalised with
RevIVe Drip Hydration
, the leading provider of
IV infusion Perth
therapies. Our range of services includes IV booster shots, NAD+ IV therapy, IV vitamin infusions, oxygen therapy, and much more. Whether you're an athlete looking to enhance performance, seeking remarkable immunity, or simply in need of a hangover remedy, we have the perfect solution to meet your needs.
RevIVe
Drip Hydration
Excellence Without Compromise.
Services
Treatments and Services
We have a unique experience awaiting for you in our clinic located in Kingsley, offering set services or tailored packages. Additionally one of our nurses can offer the treatments in the comfort of you own home, accommodation or workplace with our mobile service. Click here for more details or to make an appointment.
This hydrating infusion can assist in those symptoms associated with dehydration such as headaches and fatigue.

Vitamin B12
B Complex
Vitamin D
May prolong life, protect DNA, promote healthy brain function, reverse aging and boost energy. Every cell in our body is linked to NAD+ and as we…
Every cell in the human body requires oxygen to function. Oxygen Therapy is a vastly growing medical treatment which is designed to increase oxygen saturation…
Why choose RevIVe
Drip Hydration
We deliver an exceptional one of a kind service. To us your not just a patient, however a person with individual and specific needs and wellness goals. At Revive we pride ourselves on understanding and listening to your specific needs and working with you through your journey to maximise your wellness goals.
At Revive Drip Hydration we adhere to very strict guidelines in regards to safety and infection control.
A Legacy of Wellness: For those in the know, IV hydration isn't just about rehydrating. It's a holistic approach to health. Whether you're an athlete looking to repair and recover, a jet-setter seeking a hangover remedy, or simply want that coveted glow, we have a solution tailor-made for you.
IV Infusion Perth Expertise: With our cutting-edge IV drip treatments, Perth residents can experience enhanced metabolism, exceptional immunity, and unparalleled wellness. Dive into a universe where feeling good is a lifestyle.
Services
Services of IV Drip Therapy
A cocktail of vitamins delivered directly to your bloodstream, guaranteeing faster absorption and immediate results. Boost energy, detoxify your body, and revel in a newfound radiance.
Achieve optimum hydration levels, flushing out toxins and rejuvenating every cell in your body. Perfect for post-workout recovery, after a night out, or whenever you need a refreshing reset.
Quick, efficient, and packed with benefits. These potent shots are the perfect pick-me-up, providing an instant boost of energy, immunity, or clarity, just when you need it.

Refresh & Rehydrate
This hydrating infusion can assist in those symptoms associated with dehydration such as headaches and fatigue…
Recharge, Repair & Recover (Athletes)
This infusion has been created ideally to replenish what your body naturally loses…

Radiant & Ravishing
Everyone wants to have flawless and radiant glowing skin, and we all often struggle to fine the right product for us…
Remarkable (Immunity)
Healthy nutrition is vital for supporting a strong immune system. Although a well-balanced diet can provide you with many of the…

Remedy (Hangover) (Myers Cocktail)
Drinking alcohol can be a lot of fun, but it's no secret that the morning after hangover is rough.
Reduction
As your body ages your metabolism begins to slow down, using IV therapy can increase your metabolism effectively burning calories…
What to Expect
All of our patients begin with a free consultation to discuss your wellness goals and most appropriate treatment.
In the initial appointment a general health assessment will be conducted taking your baseline vital signs such as pulse, blood pressure, oxygen saturation levels and respiratory rate. This is to gain baseline vitals and ensure best practice and you know you are being safely monitored throughout your treatment by one of our healthcare professionals.
Having vitamin and mineral infusion can cause the body to become dehydrated so we encourage all patients to hydrate with 1L of water before they arrive for their treatment.
The treatment itself involves placing a cannula (IV Drip) into the patient's arm which might feel like a small bee sting for one second. After that plastic tubing is inserted into the vein and there is no metal needle left in your arm. This allows you to mobilise your arm a little without the worry of causing significant damage and pain to the vein or arm.
Whilst getting your treatment sit back and relax in the heated massage recliners, with a warm blanket whilst watching your favourite show on Netflix or simply relax and listen to some music.
It is always important to stay hydrated so complimentary beverages will be offered to you throughout your treatment.
Once the treatment is finished, the health professional will remove the cannula from your arm, and you have taken the first steps towards your wellness goals.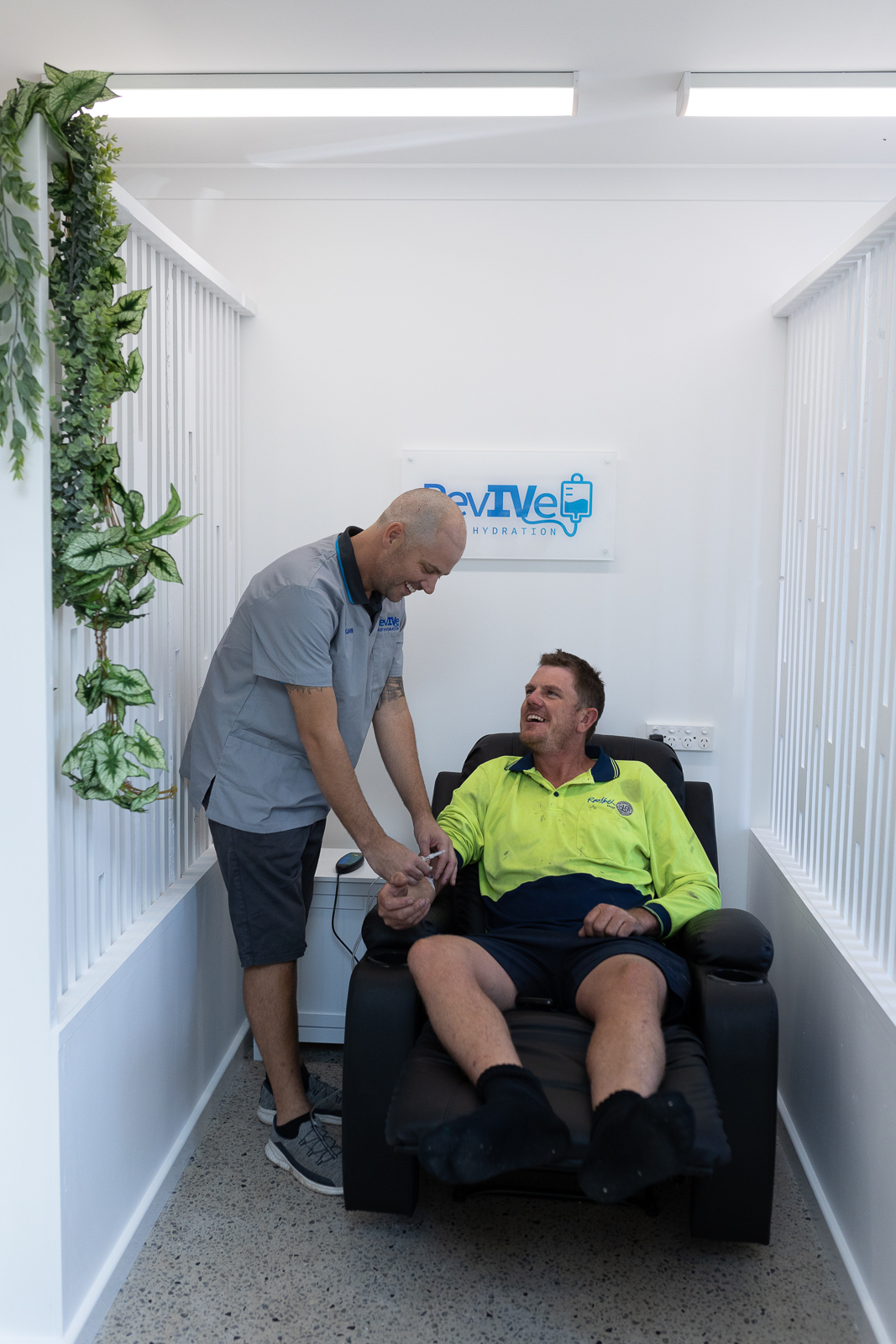 IV Infusion Perth: Boosting Your Wellness to New Heights
We understand the importance of optimal wellness and performance. With our
IV infusion Perth
therapies, you can experience a myriad of benefits that can transform your overall well-being. Our team of highly trained medical professionals is dedicated to providing personalised and effective treatments tailored to your specific needs.
IV Drip Perth: Unleash the Power of IV Therapy
Delivering essential nutrients and hydration directly into your bloodstream, our IV drip Perth therapies offer a fast and efficient way to revitalise your body. Whether you're seeking enhanced athletic performance, glowing skin, or an immunity boost, our IV drips are designed to give you the results you desire.
Let us help you with your enquiry
Address
9 Bromley Place, Kinsley 6026 Western Australia
Empower Your Wellness Journey with IV Drip Perth Experts
Amidst the hustle and bustle of life, finding balance can be challenging. At Revive Drip Hydration, we're not just offering treatments – we're offering a way of life. With every drop, breathe easier, think clearer, and shine brighter. Our expert team is committed to ensuring a seamless and luxurious experience, so that every visit feels like a spa retreat.
Ready to Revive, Recharge, and Rediscover Yourself?
Don't just take our word for it. Experience the transformative power of IV hydration and wellness treatments firsthand. Dive into a world where wellness meets luxury, and where you're always the star.
Unlock Your Best Self Today!
Join countless others in the Revive Drip Hydration journey. Book now and embrace the potent blend of science, wellness, and luxury. The future of health and vitality awaits.
Sign Up Now and indulge in exclusive offers, personalised treatments, and a world of wellness like never before. Remember, a better you is just a drip away with IV drip Perth Specialists at RevIve Drip Hydration.
Self-Care Personalised For You
We all have different health goals and nutritional needs. Our medical team will help you find and customize the right IV Drip protocol, so you can feel your absolute best.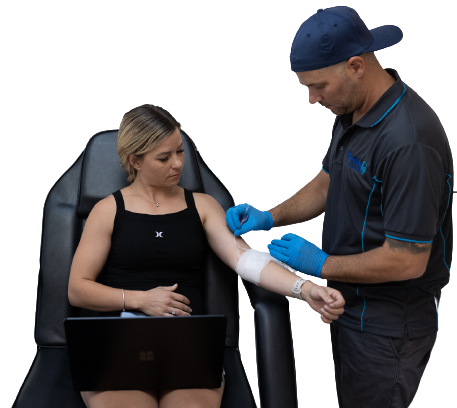 Select Your Treatmnet
Pick the NutriDrip best suited to your specific needs, or have our highly trained medical team find the right one for you.


Schedule Your Appointment
schedule your appointment at either our clinic or book a mobile service to come and treat you at your home, accommodation or office.


Quick Medical Consult
medical history form will be sent, and be reviewed by one of our practitioners.


Enjoy Your Treatment
After quick medical examination, you can begin enjoying your treatment, and begin to feel revived.
*The infusion process typically takes 30-60 minutes depending on the IV drip you choose.
Mission & Values
About Us & What We Strive For
Revive Drip Infusions focuses on a health promotion and prevention model. We take a holistic approach to your healthcare and customise individual treatments for each patient. We strongly believe that optimal health can be obtained and are here to assist you on your wellness journey.
Our services are designed dedicated to providing all our patients
We pride ourselves on providing a safe environment for your treatment which includes ensuring all safety infection control standards are adhered too, we are dedicated to providing you with a safe environment to undergo your treatment.
Our Mission
Inspire and promote health and wellbeing and focus on the individual needs of the patients to ensure positive patient outcomes.
Our Vision
At Revive Drip Hydration we aspire to excellence without compromise. We focus on evidenced based practices for our services, and base our practice to promote health outcomes and prevent illness.
Our Values
Our values are important to us and putting our clients first is the main principal in which we operate. We endeavour to provide an exceptional service whilst always seeking new ways to educate, enhance and improve our skills for our clients.
Membership
Coming Soon our monthly memberships which will give you huge discounts for those who regularly get IV treatments. Membership cost $99 per month including free canulation and hydration bag just need to add your specific add ons at a further discounted cost.
Monthly
Membership cost $99 per month including free canulation and hydration bag just need to add your specific add ons at a further discounted cost.